Phosphate Rich Organic Manure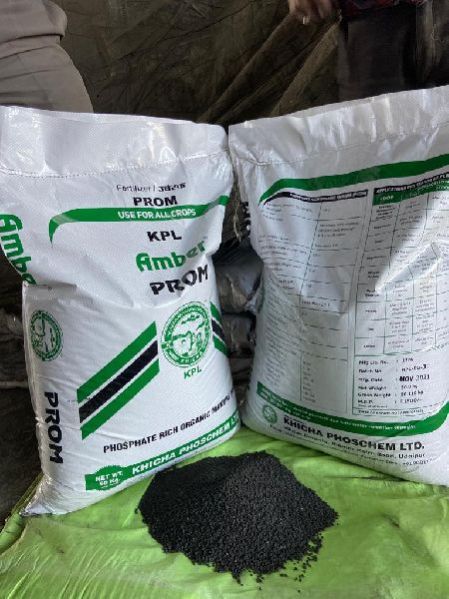 | | |
| --- | --- |
| Business Type | Manufacturer, Supplier, Retailer, Wholesaler |
What Is ?
PROM a value added product produced by co - composting hight grade (28% - 32% P205) rock phosphate in very fine size with organic matter/manure. Needless to say, the finer the rock phosphate the better is the agronomic efficiancy of PROM. 
Phosphate rich organic manure is a type of fertilizer used as an alternative to diammonium  phosphate and single super phosphate 
Phosphorus is required by all plants but is limited in soil, creating a problem in agriculture In many areas phosphorus must be added tosoil for the extensive plant growth that is desired for crop production. Phosphorus was added as a fertilizer in the form of single super phosphate (SSP) and diammonium phosphate(DAP). Excess application of chemical fertilizers in fact reduces the agricultural production as chemicals destroy natural soil flora and fauna. 
Process of PROM?
Mixing of all ingredients properly in specific proportion and fed in feed hopper.
Properly mixed material goes from feed hopper to granulation drum through conveyor belt system.Here mixed material has change in to the shape of granule.
After granulation process material goes to dryer drum for heat up the granules.
Now granules goes to cooler drum to cool & settle down.
Now the granules are ready & goes to rotary screen for screening purpose. Here granules screened for size 1.6 to 4mm as per FCO Specifications.
After screening the material which are not as per FCO Standard goes through recycle belt for recycling.
Now the final product (as per FCO) goes to finished goods hopper through conveyor belt.
Now finally product is ready for packing. Here the product is packed in desired packages viz 50kg/40kg  through auto & manual weighing/packing system.
Now finally the product is shifted to finished goods godown for dispatches to customers.
Read More...
Research efforts since last 16 years show that PROM is as efficient as any other chemical phosphatic fertilizer, plus it shows equal residual effect. PROM in an FCO since 2012.As per FCO PROM should as per following specifications :
Moisture percent by weight
15.0-25.0
Particle Size
Minimum 90% material should pass through 4.0mm IS Sieve
Bulk Density(g/cm2)
1.646
Total Organic carbon percent by weight, minimum
7.87
Total nitrogen (as N) percent by weight , minimum
0.42
Total Phosphates (as P2O5) percent by weight , minimum
10.42
Total Potash as (K2O) percent by weight, minimum
-
C:N Ratio
18:73:1
pH(1:5)P Solution, maximum
6.72
Conductivity (as dSM) not more than
8.27
Heavy metal content (as mg/kg), maximum
Arsenic (as AS2O3)
10.0
Cadmium (as Cd)
5.0
Chromium(as Cr)
50.0
Copper (as Cu)
300.0
Mercury(as Hg)
0.15
Nickel(as Ni)
50.0
Lead(as Pb)
100.0
Zinc(as Zn)
1000.0
Application of PROM
Crop
Application Schedule
First
Second
Third
Soyabean, Groundnut , Mustard, Sunflower
On sowing time
After 25 to 30 Days
Nil
Sugarcane
After 25 days of planting
Again after 25 days
After 25 days
Gram
At the time of sowing
At the time of first irrigation
After 20 days
Vegetables
At the time of sowing transplantation
After 20 to 25 days 1st time
Days after 20 to 25 2nd time
Wheat Opium
Sowing Time
After 45 to 50 days planting
Days after 20 to 25 2nd time
Apple Orange
Before Flowering
After first setting in may
Nil
Paddy
After 10 to 12 days from plantation
20 to 25 days after first transplantation
Nil
Tea
Nursery stage 3 to 5gm per plant
Nil
Cotton
At the time of sowing
After 50 to 60 days
Dose
80-100 Kg per acre
Looking for "
Phosphate Rich Organic Manure

" ?